With all variety of services of the club "STONE" the cafe is possibly the brightest and the most considerable.
Hours of work:
Mon-Tue, Sun:
since 12.00 to 24.00
Fri, Sat:
since 12.00 to 03.00
8 (8362) 35-01-03
Photo gallery
Italian chic, Japanese refinement.
The club "Stone" with creativity and fresh ideas peculiar to it opened the door of a new caf? "Terrasa". The extraordinary name is not the only surprising thing.
Lazy breakfast, business lunch, dinner with colleagues, romantic supper with a beloved person or noisy party with friends – the caf? will suit for any occasion.
Although, the occasion is not necessary! Stylish atmosphere of the big and light hall, pastel shades in the interior from light beige to olive green and chocolate are favourable for communication, interesting acquaintances and flirtation.
There is the whole cult of style and comfort. But the most important advantage and pride of the caf? "Terrasa" is the Italian and Japanese cuisine and also the wide choice of desserts and an extensive wine card.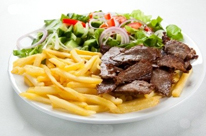 It is difficult to imagine a life of a person valuing his time without a business lunch. And without any doubt the most pleasant time of a working day is a lunch break.

From Monday to Friday since 11.00 to 15.00 the caf? "Terrasa" invites you to have an appetizing HOME DINNER.